A Tribute to Ted Joans
Yuko Otomo
March 2017
Let's get TEDUCATED!
Part II: A Follow-Up

Pangolin Sperm a teducation word (journal excerpts)
Sept. 23 (Wed), 1998
Laurated*, Steve & I took a subway to 57th St. to see Juilen Levy: Portrait of an Art Gallery @ the Equitable Gallery. 1931-1949.
The serious & humble attitude towards art that Levy had learned from his mentor Alfred Stieglitz seems in our time like a thing of the past. The historical significance of his role in helping Surrealism become rooted in American soil is clear & solid. At a time when the meaning of being an art dealer seems to have fallen to the bottom, my heart ached as I saw this show. I tried to ease my pain by enjoying the humble beauty of an invitation card created by Joseph Cornell. Short film works by Levy, who originally intended to be a filmmaker were installed in the adjunct room and showed a breath of something that our generation has lost.
In the evening, we went to the Drawing Center in Soho for the Nightlight Reading Series that was curated by Linda Yablonsky, Catherine Texier (Breaking Up: The end of Love Story), James Purdy (Gertrude of Story Island Avenue) & Phoebe Hoban (Basquiat: A quick Killing in Art). Ted wanted to say "something" to Hoban when her talk was done, but he didn't. Ted'd never seen or met Basquiat, & Basquiat had become his lost mythic hero.
After the reading, we all went to Bruno Bakery on LaGuardia Place for dessert. Steve ordered some puffy pastry with cream inside. It was a big piece, & Steve asked Ted to help him finish. Ted tasted a small amount of cream & said, "It tastes like Pangolin's Sperm!" & drew the picture of the animal & explained its nature to us.    
Sept. 24 (Thurs), 1998
Ted asked me to pick up some xerox copies of the photos of his African trip (from way back) in a copy shop in the village. From there, I took a subway up to the Museum of Natural History to meet up with Ted & Laura. We spent some time in the new Biodiversity Hall (!?!). They already had spent 2 hours there before I joined them. Then, we took a walk crossing Central Park from the west to the east side. They picked up their passports at the Malian Embassy for their upcoming trip. Then, they invited me to where they were staying. The owner of the place was a friend & a lawyer of Alexander Calder. There were Calder mobiles in the apartment here & there as if they were toys that brought me back to think of the original spirit of Calder Art! We had Champagne (California) that had given us such a hard time in opening the bottle. We'd done everything – sawing & pulling, etc. Then, we took a bus down to the lower east side & had a late lunch at Kiev on 2nd Ave. They treated me again!
In the evening, Ted & Laura went to the opening of the Bob Thompson Retrospective at the Whitney Museum. Ted had known him well. He even owns one of his paintings.
Sept. 26 (Sat)
Laurated* came to see us to say "good-bye." They are leaving tomorrow for Paris & then to Timbuktu, Mali. They are going for a long African trip till the end of November. I took a walk with them to the east side for a while.
(* Laurated = Laura + Ted. Another invented word by him as "tedjoans" & "femmoiselles")
Paris
CENTRE BEAUBOURG
art does not need
(to have)
a proper noun,

a poet said 
from STUDY & other poems on art
I wrote this poem a long time ago when I had first gone to Paris. The poet who taught me this essential teaching about art was Ted Joans. He refused to call the museum by the name of the associated politician & insisted on calling it "Centre Beaubourg: Beautiful Mountain." How strange it is to think that this teaching is shared by another mentor of mine, a Buddhist aesthetician-historian, Yanagi Muneyoshi on the creative principle of art being anonymous. I took Ted's words directly into my gut.
Speaking of Centre Beaubourg, a massive Beat Generation exhibition* took place there last summer (*Read John Greiner's "Culturally Capturing the Counter-Culture", Arteidolia 2016 September)
This major exhibition was one of the most comprehensive, & the first of its kind, to be held in France. In the catalogue essay, the chief curator, Philippe-Alain Michaud, claimed that the lineage of the Beat Generation crossed over as an extension of Surrealism. But he only mentioned Ted's name briefly in a different segment when, while speaking of how the term "Beatnik" was invented, he spoke of "Beatniks" as follows: "The poet Ted Joans went so far, satirically, as to create a Rent-a-Beatnik company to add a touch of counterculture to parties and events." I was very disappointed with this treatment. Ted was a Surrealist, as his credo stated "Jazz is my religion; Surrealism is my point of view." Moreover, he was a close friend of Andre Breton, its founder, & Charles Henri Ford, who became the essential bridge that brought Surrealism into the US. Paris had been the base of Ted's surreal life since he'd moved there, having already graduated from the NYC Bohemian life of Greenwich Village in the 60s. How can this fact have been bypassed & forgotten? Even in the reviews of the exhibition, Ted's name was missing as usual. As usual, attention went to 2 other major "black" poets of his generation, Amiri Baraka  & Bob Kaufman, as if Ted didn't even exist.
My Ted Joans tribute Let's get TEDucated! (Arteidolia, June 2015) ended with a mention of an upcoming special issue dedicated to him in "IMPROJAZZ: Magazine d'information musicale," one of the most important progressive jazz magazines published in France. Having come out in July-August 2015 compiled by Olivier Ledure, it beat the Beat exhibition @ Centre Beaubourg by a year. Since Ted had spent so much time in Paris, the understanding of who he was by French audiences, especially jazz aficionados, greatly surpasses the American audience. It is quite remarkable to see the gap.
In it there's plenty of amazing historical information, photo-images of him, his books & memorabilia rarely seen in the US, such as a painting he did for Charlie Parker, "Bird Lives!" (1958); the cover of Beat Funky Jazz Poems (Rhino Review 1959); a very rare handmade poster of the 2nd de la Libre Expression organized by Jean-Jacques Lebel (1965); a photo image of Andre Breton & Ted in Breton's apartment on rue Fontaine (1966); the cover of Poezie In Het Paleis (in which Ted reads his signature poem The Truth accompanied by the Archie Shepp Quintet with Jimmy Garrison, Beaver Harris, Roswell Rudd & Grachan Moncur III)  & many beautiful photos by our friend Thierry Trombert, a great jazz photographer who's been dedicating his life to capturing the jazz history of France. Just a look at the image of Ted holding court on a Paris sidewalk with Joseph Jarman, Oliver Johnson & Don Moye will give you a sense of who Ted was. The article covers some of the unknown world of Ted with some good Youtube links of him reading with music.
Ted Joans holding court on Paris street
with Joseph Jarman, Oliver Johnson, Don Moye
© Thierry Trombert 1984
Andre Breton & Ted Joans @ 42, rue Fontaine, Paris 1966
JAZZ & POETRY by Louis van Gasteren (Amsterdam 1964)
Another heartwarming episode from Paris to be mentioned is the 2016 October newsletter from Shakespeare & Co. bookstore, where they announced the creation of a limited edition tote bag w/ Ted Joans credo: "Jazz is my religion & Surrealism is my point of view," written in white letters on black cotton canvas. Then, we received a "surprise" gift package from our good friend Gary May, an avid jazz lover & photographer living there. In it, we found 2 beautiful gingko leaf collages made by him & a TED JOANS TOTE BAG from the bookstore. If I'm not mistaken, this was the first tote bag the bookstore has launched. I enjoy imagining people walking, swinging, carrying Ted's words in the city of LIGHT.
Speaking of Shakespeare & Co., we were shocked to see the changes that had taken place in the store the last time we'd visited there in Fall 2015. We were greatly saddened to see that new renovations had taken away the altar shrine where Ted's photo had resided & that the poetry section had been moved to the 2nd floor of the store. His shrine had been replaced by the children's book department. The current owner, Sylvia Whitman, who had taken over the business from her father, the late George Whitman, had remodeled the store for the needs & the tastes of the new century. She's recently published a book on the history of the store. There was a page with the photo of Ted playing a trumpet with Langston Hughes reading in the store. I was happy to find the page, but, here again, he's presented merely as "a jazz poet," not in depth as he deserves. Sylvia tells of her childhood memory of seeing Ted at the bookstore almost every day as she was growing up. He would read the Herald Tribune & other English language newspapers there every morning, & the bookstore was his main "connecting" point with friends, since he had no phone.
In 2015, another book on Ted was published in Paris. "All Around Ted Joans" by a photographer friend of his, Marion Kalter.  Interestingly, quite a few of her images were used for CUNY'S LOST & FOUND.  Gary (May) went to the publishing launch at the store, where a small audience, including Jim Haynes (*Read about this legendary figure in In The Meantime: A Playroom of My Own #11, Arteidolia, May 2016) & other few old Paris friends of Ted participated. He kindly mailed us a signed copy.
All Around Ted Joans  © Marion Talter 2016
NYC
Following Paris, NYC is discovering Ted slowly but surely. Interestingly, it's academia that is doing the job. Finally, in spring 2016, "LOST & FOUND": The CUNY Poetics Document Initiative (founded by a poet/scholar Ammiel Alcalay) published POET PAINTER/FORMER VILLAGER NOW/WORLD TRAVELLER TED JOANS" PART 1 & 2 (edited by Wendy Tronrud & Ammiel Alcalay). The focus of this unique "LOST & FOUND" project started in 2009 is to cast light on undiscovered & lost materials of great writers such as Amiri Baraka, Ed Dorn, Kenneth Koch, Frank O'Hara, Philip Whalen, Robert Creeley, Langston Hughes, Lorine Niedecker, Gregory Corso, Jayne Cortez, etc. The editorial team got in touch w/ us via Ammiel when they were doing the research for the project, & we gave them some information & contacts. We received advance copies & a "thank you" in the acknowledgements.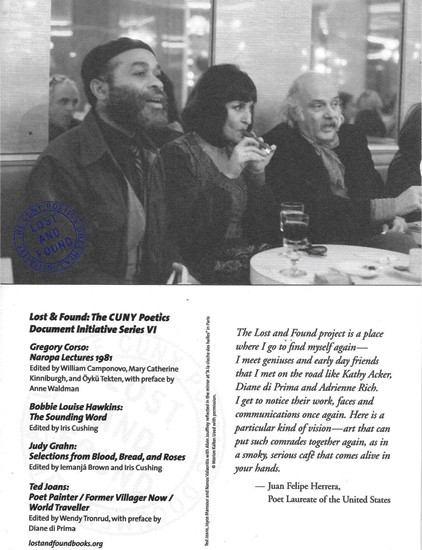 CUNY invite card, courtesy CUNY, image ©  Marion Kalter 2016
This is one of the first & the most "in depth" publications done by academia for Ted. Two volumes provide us with a rare opportunity to delve into the "undiscovered & unknown" world of Ted Joans.  I praise their efforts for having taken on this courageous project. Graced with a preface by Diane Di Prima, TED JOANS IN PARIS, 1976; INTRODUCTION by Wendy Tronrud & TED JOANS: A BRIEF BIOGRAPHY by Ammiel Alclay, it tries to unfold the mysteries of his "non-careerism" through presenting unpublished work by him.  The original inspiration behind the idea of "non-careerism" was ignited by Gerry Nicosia in his introduction, A Lifelong Commitment to Change: The Literary Non-Career of Ted Joans, written for TEDUCATION (Coffee House Press 1999). Unlike most poets & artists, Ted did not pursue a career, but instead led his life in order to live a poem-life.  What a special treat it is to go through Ted's unknown work, his paintings & drawings (*remember he majored in painting at the University of Indiana!) along with the photographs by Marion Katler from All Around Ted Joans that I've just mentioned.
Part 1 provides selections from UC Berkeley, the Bancroft Library Archives.
Ornette Coleman (1961); Alto Sax Sensations (ND); Negative Cowboy (a film script 1965); Untitled Fragment (1965); Letters to Students & Workers in Paris (1968); Letter to TIME Editor (1968), Letter from Stokely Carmichael & Miriam Makeba (1969); The Adventures of Ultra White & Super Black (1969); Letter to Allen Ginsberg (1971); Mutualité à la Cecil Taylor (1976); Archie Shepp at the Riverbop (1976); Postcard from Allen Ginsberg (1977).
Part II includes more selections from the same archive.
The Book of the Best Travels to and Back from Timbuktu (1962-1978); And I Went As Usual To The Desert (ND); Letter (ND); Black Tongue Lash On Surreality (1980); Once Upon A Time There Was A Poet of Harlem (ND); Weegee and We (1989); The Ardvarkian Surrela Stroll in Paris (1992); Letter from Will Alexander (ND); Untitled Fragment (1992); Excerpt of Letter to Amiri Baraka (ND)
This is still just a small portion of all the other unpublished works of his. I hope this project will stimulate serious interest in Ted's work & that a reservoir of treasures worldwide that we haven't tapped into yet. Allen Ginsberg's remarks about Ted being the "only poet" who has done pilgrimages all over Africa supports my words on the same argument in my Let's Get TEDucated! Part 1.  His vision & writing will help us understand the deep-seated complications of racism & other socio-historical issues plaguing humanity. Although I could not stop feeling my own sense of "a strange awkwardness" to see my personal friend Ted & his work being treated in an academic, analytical manner, it is extremely important to dig up more of his work in order to give justifiable attention to his world for the benefit of us all.
*for more information on LOST & FOUND
The CUNY Poetics Document Initiative Series

www.lostandfoundbooks.org
Another interesting attempt from academia that I'd like to mention here is NYU's Grey Art Gallery's Inventing Downtown: Artist-Run Galleries in New York City, 1952-1965 (Jan 10 – April 1, 2017). It is a great survey on a little over a decade of the New York Downtown Art Scene that spans from the mid period of Ab-Ex to the pre-Pop Art explosion. It focuses on the independent spirits of the artist community of the time. There, I found Ted's name amongst other participants, including Jerome Rothenberg, in a small, letter-size announcement poster of the Involvement show at March Gallery in April 1961 that was organized by Stanley Fisher (who complied the Beat Coast East Anthology). The exhibition presents works by Ed Clark, Bob Thompson, Norman Lewis, even the photo of Jack Michelene (by Peter Moore). Ted must have been involved in this movement of artist-run activities, but his presence is invisible except in this small poster. I wonder if the curators of this show even knew who Ted was?
Speaking of NYU, when Robin G. Kelly was a professor of the Department of African Studies, he gave Ted a chance to show his TEDUCATION films. Sadly, it was scarcely attended by only a few friends of his, but there were no students in sight. Nonetheless, we enjoyed the rare opportunity of viewing silent TEDUCATION films accompanied by Monk's solo piano music on cassette tapes. What an experience it was! Such e'spirit & such modest joy! His film works were naturally in the tradition of artist films made by Surrealists. I passionately wish that his TEDUCATION films will have the opportunity to be seen by the public one day soon.   
Non-careerism & Invisibilities
It is fascinating to realize how "unknown" & a "nobody" Ted still is to most of the people  & to the world, although interest is surging slowly but surely in some aspects. In our society, we have an unfortunate tendency to judge the value of things & of a person by their degree of visibility. How known, or simply said, how "famous" one is determines one's value. It's the basic value system structurally created by capitalism. Because of his free spirit, Ted "self-exiled" himself from the loop of society's norms & the "visibility" game.  He was not seen. He was virtually unknown, since he was not connected to any system, including academia. He had nothing to sell but to share the "Joie de Vivre of his Poem-Life." When all his close personal friends such as Ed Clark, Melvin Edwards, Jayne Cortez, Charles Henri Ford, Cecil Taylor & David Hammons had become so well known & celebrated, Ted was still "unknown," "under-recognized" &  "under-published." Compared to his contemporaries Baraka & Kaufman, he was virtually non-existent.
Another mistreatment & misunderstanding of Ted and his work is the fact that he's always been categorized as a "jazz poet" in the narrowest sense. He lived his life humbly, passionately & perfectly well according to his credo: Jazz is my religion. Surrealism is my point of view. As a matter of fact, he proudly did call himself a "jazz poet". But in a society where jazz has been & still extremely marginalized as an art form, to treat him merely as "a jazz poet" is like treating Kerouac as the king of the Beats in a way that confines him within a narrow interpretation of who he was. In order to truly understand Ted Joan & the concept of TEDUCATION, you must first know & understand what jazz is to begin with, & the job is not easy.
It's not enough to know the categorical terminology or its history. You really have to get involved in it physically, metaphysically & spiritually in order to "know jazz." First, you have to get "baptized" by it in the purest sense, listening to it to learn its content & its history. Without being truly involved in jazz, his religion, you'll never know who Ted Joans is in the truest sense. You'll just end up categorizing him into something confined as if he was some kind of a rare species within Human Natural History. In her introduction to CUNY LOST & FOUND, Wendy Tronrud cites "this enduring scholarly eclipse," referring to the long and sustained lack of appreciation of Ted & his work in academia & publishing fields. Jazz still carries the stigma of being black, poor & marginalized, or is taken as a symbol of some esoteric field or genre of music. Am I wrong to assume that there are not enough scholars that are immersed in this "universal" art form born out of American soil & its history to start tackling this forgotten treasure mountain called Ted Joans?
The Past/Present/Future of TEDUCATION
Since my 2015 tribute to Ted Joans, NYC's gentrification is spurring to top speeds & the Greenwich Village landscape is changing. A grilled cheese sandwich shop that took over 101 MacDougal Street, where Hy Shorr, one of Ted's closest friends, lived & was one of Ted's NYC places to stay, is now gone & has been replaced by a digital age on-line order dessert shop. One positive change is the new plaque that commemorates San Remo Café (1925-1967): a mecca hangout for writers, artists & musician was placed on 93 MacDougal St. by Greenwich Village Society For Historical Preservation. Of course, Ted's name is not included in it, but you can see names such as Dylan Tomas, James Agee, Jackson Pollack, James Boldwin, Frank O'Hara, Amiri Baraka to Norman Mailer.
In this fast shifting world of the new century, "Now's The Time" for us to take on the challenge of our Non-Violent (R)evolution. In order to do so, we have to learn more about ourselves to deepen the understanding of diversity in cultural & social issues. There are many teachers & mentors, dead or alive, institutional or non-institutional, whom we can learn from. Ted Joans, a poet who chose to be an eternal traveler; who was not just writing poems; whose poem life welcomed "Volunteered Invisibilities" instead of falling into institutional "Volunteered Slavery"; who was a "Lover", not a "Hater"; who took "Poetic Actions" instead of being saturated by "Apathy" or indulged in "Anger"; who knew "the Cosmic Values of Women's Wisdoms"; who opted out for the "Freedom" to know 'The Truth' rather than bowing down to 'the Capitalistic Money Cult' will be one of our grand master teachers who can give us so much needed guidance.
As Emily Dickinson sings "I dwell in Possibilities – ", the tide is changing slowly but surely.

Poems-For-All
One response to "A Tribute to Ted Joans"