Abstract Preferences
Anthony Pinata
January 2016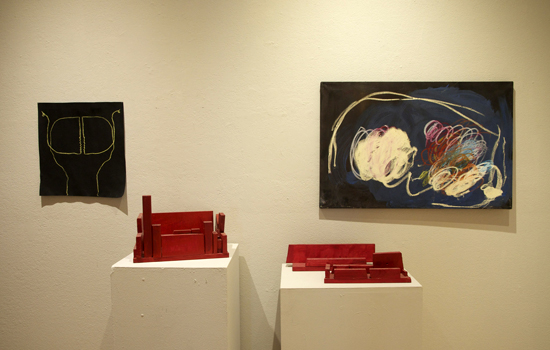 CONVERSATION WITH NIAD ART CENTER'S GALLERY DIRECTOR TIMOTHY BUCKWALTER
NIAD, the National Institute of Art & Disabilities was founded in 1982 by Elias Katz, Ph.D., a clinical psychologist, and Florence Ludins-Katz, an artist and educator. As then, as now, the place has served to create a space for artists with disabilities in a fresh and supportive community.  I have been enjoying many of the NIAD exhibitions, which change monthly. For some time abstraction has been my main pursuit in my studio practice and there is always plenty of it on view at the center. I enjoy seeing the total abandon with which many of the artists attack the canvas or paper. There is not any hesitation about making artwork. I do not see any artists caught in any existential or conceptual dilemma. They freely make drawings, paintings, and sculptures, without any angst or pre­conceived notions about art.
Anthony Pinata: How is the term "Outsider," if at all, used at the NIAD Art Center? It seems that the term is fraught with complications, as those artists once considered outside the establishment have become increasingly part of the mainstream, especially with artists such as the self-­taught James Castle (1899–1977), who had work included in the 2013 Venice Biennale and has work in many major museums, including the Art Institute of Chicago, Museo Nacional Centro de Arte Reina Sofía, and Philadelphia Museum of Art.
Timothy Buckwalter: Well, at the Art Center, we use the term to refer to the contemporary artists (without disabilities) that we bring in and exhibit here. Only about a quarter of our artists are functional enough that we can take them to galleries, museums and other artists' studios. So every month, in a dedicated exhibition space, we bring in art from the outside world for our artists to think about and experience.
AP: Does the term Outsider have any relevance today?
TB: Well, it's a label, right? And all labels can have a relevance because they offer a quick reference point. But, no one creates in a vacuum. So, I've never really believed "Outsider" actually described its intended describee.
AP: When I walk around the exhibit Abstract Preferences, I find some difficulty in drawing a clear line between the art made by artists with disabilities and those without. Do you see any clear distinctions?
AP: Some of your artists have reached far greater critical and commercial success than your average artist who has followed the traditional path. For example, Marlon Mullen, who has been with NIAD since 1986, has recently been exhibiting at the UC Berkeley Art Museum (2011), White Columns (2012), Boca Raton Museum of Art (2013), Atlanta Contemporary Art Center (2015), JTT (2015), and Jack Fischer Gallery (2016). Do you think that the NIAD artists benefit from the prolonged and consistent studio practice as they are generally working in the studio Monday through Friday? Most artists are balancing a full-­time or part-­time job along with their art production.
TB: Marlon's history is a bit more complex. He worked at the Art Center for five years then left. In that half ­decade, he didn't really get anywhere in the contemporary art world. After he was selected for the Create exhibition by Matthew Higgs and Lawrence Rinder in 2011, he came back to NIAD and began working again, painting ever more intriguing pieces. Marlon is on fire right now. This month (January 2016) he will have a solo show at Adams and Ollman, will be included in the Tenth White Columns Annual and will be shown by JTT Gallery at the Outsider Art Fair.
But, Sure, what artists doesn't dream of working and thinking about their art full-­time. We're delighted to be able to offer that as an option.
But working on art full-­time isn't for everybody. I like to compare NIAD to baseball. We have three levels.  The artists who like to come to the center to socialize; their friends are here. They have community. And creating art comes second to this. They are like the people who get together on summer weekends and drink beer and play softball. Then we have people who are interested in art, study it and try to create something. Community to them is a bonus. And our involvement with them is to try and get them to see as much art as possible and help them understand the limits and possibilities of materials. They are like ball players in the Minor Leagues. And we have the pro­ball players ­­ – like Marlon – ­­ who make their art and our involvement with them is limited to mostly handling their careers.
AP: How do the artists at NIAD develop their style? Do the instructors guide them when they see the artists focusing on a particular set of ideas?
TB: Well, the studio's workspace is very open. So they see each other's work. and feel each other's successes. The instructors generally help the artists with understanding materials and prep­work. But, sure, everyone that works here has ideas about what makes art interesting, so they complement the artists or explain what isn't working. And like when your gallery tells you they want to show a series because it works, I do the same with our artists.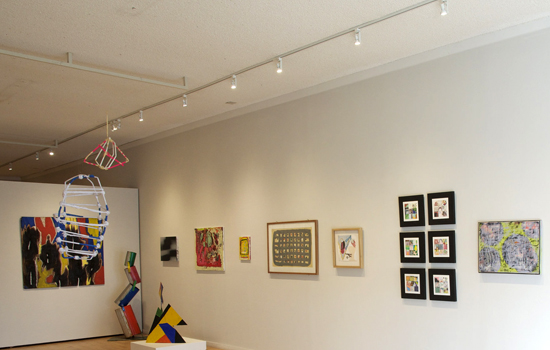 AP: Jeremy Burleson has created his own world of web­-like sculptural structures. How did he stumble upon making these forms?
TB: The myth goes that Jeremy was in a box store and knocked over a lamp. The racket and destruction felt good, so he knocked more off the shelf. Security arrived etc. The structures are Jeremy's recreating the experience ad infinitum. When he is finished with a piece, he throws it to the ground. Jeremy always recreates ­­ in paper ­­ the handcuffs that were used on him.
It might sound unusual, but, a big part of art making is creating something so you can recreate an experience:­­ admiration, love, sex and so on. That is what Jeremy's objects do for him.
AP: Do the artists at NIAD receive any formal instruction?
TB: Not from us. Again, we primarily offer assistance in the form of materials, guidance and career building. But, some of our artists have attended college. We even work with one who has been a studio assistant.
AP: What do you think non-­disabled artists have to learn from NIAD artists such as Jeremy Burleson, Felicia Griffin, Peter Harris and Elena Rossi?
TB: As much as they would learn from any other contemporary artist. Our artists create work that participates in many of the conversations that flow around the contemporary art world, and other artists take from it what they want ­­ just like anywhere else.
As artists (with disabilities or not) and viewers, we (humanity as a whole) connect with an art object (be it a painting, drawing, sculpture, and so on) for whatever reason. And we take what we want from it, and not necessarily what the artist intended for us to take. I don't see our exchange going any differently than that.
AP: How do the artists at NIAD engage with the sketchbook? I ask because there a few sketchbooks on display and they seem more like compiled booklets than the traditional sketchbook which often is a repository of upcoming and sometimes never used ideas with notes, writings, and little drawings and paintings.
TB: Well, yeah, the sketchbooks can function as doodle pads, something in which to kill time because our artists ­­ for whatever reason ­­ don't want to begin working on something bigger.
But, they can also operate as a repository, especially for someone like Sara Malpass. Sara compiles lists of words and phrases from whatever she is reading at the time. The words are, as she describes them, chosen because they pop off the page at here. Sara then references her sketchbooks when she decides on what works she will cut in ceramics (Malpass creates wall works that are essentially words cut out of clay and measure about one to two feet long), again she chooses the words that pop out at her.
AP: How do the exhibitions affect everyone at NIAD? Do the artists at NIAD get ideas? Do you ever see an artist influenced by anything they see in the gallery space? I myself feel invigorated after seeing some of the exhibitions, be it a new Jonathan Velasquez drawing or a guest artist exhibiting such as Scott MacLeod.
TB: Sure. As I mentioned earlier, the reason we bring in art from the outside is to give our artists the real life experience of art (versus seeing it in a book or magazine). And when you see art, it always seeps into the viewer, whether you know if or not.
Years ago, when SFMOMA showed the controversial late paintings of de Kooning (the ones where he was painting with a disability ­­ Alzheimers, I believe) I was talking to former San Francisco Chronicle art critic Kenneth Baker. We were discussing how they fantastic they were, and he said the Bay Area art scene could look forward to the next five years of having sparse, white, lyrical paintings. That's how influence works.
Around here, it happens all the time, the example that comes to mind immediately was during a show of Oakland artist Kathleen King's wall works (which were kinda like a Sean Scully painting rendered in wood, but better), NIAD artist Jonathan Valdivias became fascinated with her objects and began working on a series of free­standing wooden sculptures ­­ resulting in pieces that were a combination of the Watts Tower and a Giacometti, as if you took the Kings off the wall, threw them to the floor and began playing pick­up sticks. Valdivias, until he experienced King's work, had no interest in wood or thinking three-­dimensionally. King's work gave him that liberty.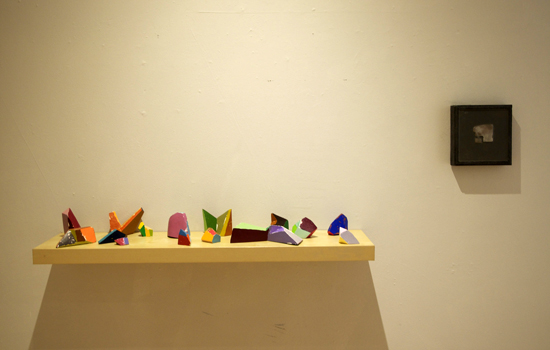 Abstract Preferences

Kristi Arnold, Tom Bills, Jeremy Burleson, Jerry Carniglia, James O. Clark, Chiara Giorgetti, Felicia Griffin, Peter Harris, Raymond Haywood, James Heartsill, Tom Holland, Opesanwo Ifakorede, Carole Jeung, Ryan Peter Miller, Rik Ritchey, Barbara Rogers, Elena Rossi, Alejandro Rubio, Byron Spicer, Bubba Trieber, Christian Vassell, Art Vidrine, Hadley Williams, and Mark Williams
NIAD Art Center
551 23rd Street, Richmond, California
Abstract Preferences continues through January 29
Images courtesy of NIAD Art Center/Katie Johnson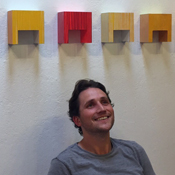 Oakland visual artist and curator Anthony Pinata has been showing his artwork since 2000 and has realized curatorial projects at the Richmond Art Center, Oakland International Airport, and NIAD Art Center.  In recent years, he's been been primarily concerned with abstraction, drawing colors and forms from his immediate experience and environment, especially the maps and grids evoked by man-made structures on the grander scale, such as the seemingly endless highways whose lines can appear to drift into the horizon.
One response to "Abstract Preferences"