In Walks
Considering Kiefer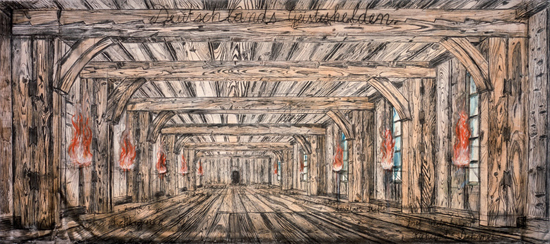 Anslem Kiefer has been called one of the great artists of our time, Germany's greatest living artist and has been on the scene larger than life since the 70s. I began asking myself what makes for a "Great" artist?

Is it the 10,000 hours of working at something that Malcolm Gladwell suggests it takes a person to become a master? Is it the volume of work, having a compulsion, a personal vision, a burning idea which one feels compelled to impart, an innate ability or a learned craft? Is it a taking on of the mantel of one's generation or one's country? Is it planned out as a strategy, which seems suspiciously like what some of our Big Box artists today seem about (and is that bad, or just big business)? What about intimate art? What about art that doesn't bash boundaries but is innovative in its honesty?

Seems to me there is extroverted art and introverted art and that there always has been. Seems like we are living in a time and place of heavy duty extroversion. I come from the sensibility of introversion, don't care for bombast, the grand gesture. I prefer early Florentine to later Venetian…etc.

So why do I love most of Kiefer's work? The materiality.  The weaving of visual imagery with written word. The encompassing scale.  The openness of brushstroke.  The combination of landscape with history painting. Dead straight ahead view of it. The fact of it.

His early imagery mostly refers to the forest. If we study anything about ancient Germany, we learn that the forest, the Hercynian Forest, which barricaded the Germans in and the Romans out, was the reason that the German population was more "pure," less intermarried than the rest of Europe. This became an obsession of the Nazi party. An interesting place to begin for an artist who has spent most of his career exposing the ugly underbelly of Germany vis a vis WWII. I imagine how I might feel if my family, community or country were Nazis. The taboo about addressing this in the Germany not too many decades after the war was pretty strong.

So, the Germans, who have all these forest words, like urwald for sacred grove, waldman — man of the woods, holzweg — forest path, waldsterben — forest death (coined in the 80s), were the first in the 1550s to use pine and other boughs to decorate churches, celebrating the Holy days with the pagan symbols. Think Druids, Wotan.

The Roman historian Tacitus wrote in his treatise on the German people, Germania, that they were an uncivilized, warring people living in the forest and bogs, "natural" without craft or cunning, keeping to themselves and pretty pure ethnically because of that. He compared the Germans to the Italians, whom he classified as sophisticated and corrupt. Himmler spent the better part of the war trying to get a copy of this ancient book from Mussolini, who after Italy's defeat, caved in.

If Joseph Beuys, who was mentor to Kiefer, was artist-shaman to a war sickened Germany, Kiefer took it to the next level. One of Kiefer's first pieces was Occupations, a series of staged photographs of Kiefer giving the Nazi seig heil salute taken in numerous places, some of which are in front of the Colosseum in Rome, Arles, again linked with Italy in that he is in a Roman graveyard, in Paestum, Italy, also in a bathtub "on the water" in his own apartment, it is said, mocking the idea of walking on water as well as alluding to the fact that Hitler could not swim. Beuys had very strong opinions about the narcissistic "avant-guarde," art about art.  He thought that art should be spiritual, Der Blaue Reiter and Kandinsky….

Gesamtkunstwerk: a total work of art, all encompassing work. In Social Sculpture, Beuys said that "Everyone is an artist" in the sense that we are all creative and political; and in an Artforum interview with W. Sharp, he said, "Teaching is my greatest work of art…the rest is a waste product…objects aren't very important anymore." His idea of creating art was to move away from the narcissistic avant-guarde, art about art and toward the spiritual, total work of art or gesamtkunstwerk. One of Beuys' last pieces done for Documenta 7 in 1982 was to plant 7,000 oak trees, each with a basalt stele next to it. This project was completed by his son after Beuys' death in 1985.

Arthur Danto criticized Kiefer's work, writing that it was "A sustained visual lament for a shattered Vatherland, a recall to the myths of triumph and heroic will. Kiefer has endeared himself to the curatorial establishment while at the same time impressing the wider populace that spontaneously equates obscurity with profundity by stuffing his work with a farce of heavy symbolism which curators can use to justify their existence by having to explain it." I would beg to differ. Is it a bad thing to know who the characters are before you see an opera? Don't we want to know about an artist's life, surroundings and models? Aren't myth and ancient history pretty interesting? I had no idea who Varus was before I became familiar with Kiefer's work.

And once we know, well, then we know it, see it and participate in it differently. The more we know, the more we see. The test is, after we know and decipher the "code" of the work, does it remain powerful or is it just about trying to discern what's going on, and after that nothing of interest remains?

My thinking is, as we write or paint or create anything, we want to offer a way of seeing which will give an epiphany, a boost, a gift, insight, give something. It's not about impressing viewers with newness or intimidating them with obtuse meaning, but giving them something, changing something in them, allowing something, affirming some part by.

Kiefer holds a mirror to the destructive in us all, the narcissistic. Robert Hughes said his work "affirms the moral imagination."

From his early work on, Kiefer has employed the use of writing in his painting. Forest with very high horizon, containing us uncomfortably within the painting. Names of ancient Roman warriors placed across painting surface. Historical place markers. Names of places. Brunhile and Grane. A device forcing us to read as we do every passing billboard, whether we want to or not. Intertwining the language. Evoking our participation in imaginations of ideas or persons. The insistence of placing them in our minds. Quite the opposite of the ancient Roman practice of damnatio memoriae, which by government decree allowed for the removal from history the names of those who were deemed unworthy to have lived. Written names were scratched out from inscriptions, faces painted out, statues defaced, wills annulled.

Kiefer's "books" usually have no words, and often the pictorial images are obliterated by material, book becoming object.

In later work we have material symbolism joining the written names, the straw for hair of Margarete, the ashes which allude to Shulamite. But again, the intertwining of writing, this time also implied by the homage to Paul Celan's poem, Death Fugue. Lead as material, glass, sand, charcoal. The paint of alchemy.

Later the artist's palette becomes an icon which anchors the landscape in a similar way. There is landscape, there is history. There is a layering of possible meaning. The palette brings the artist into the concept of the work, artist as interpreter of history, maybe with ability to change the narrative, visually dense with materiality and inference while keeping a loose rhythm of painting and drawing. The timber interior of his studio, which encloses the viewer in another operatic looming space, threatening us as well with the flames along both walls honoring Germany's spiritual heroes. Forest and studio interiors as protagonists themselves, not as a setting, but as a being. Wood grain in studio walls, floorboards, ceiling vibrating with life. Flames on side walls flickering, enlivening even more with the threat of a huge fire. Movement, time elapsing.

Kiefer early on would not grant interviews, was against the concept of artist as celebrity, which I could never reconcile with his choice of Warhol as one of his two favorite artists. Now, his most recent work at Gagosian last year, Morgenthau Project has gotten some bad press: too theatrical, too much money, too big, too Gagosian. This may be true.

Andrew and Christine Hall, after a 2007 court order to remove a massive Kiefer sculpture, Narrow are the Vessels, from their grounds in Connecticut, converted a building at the grounds of Mass MoCA to do a 15 year long installation of a large group of their Anslem Kiefer collection.

Visiting MASS MoCA

Joseph Thompson, founding director, Jodi Joseph, Jerry Orter and I walk out of the main building of MASS MoCA to view Anslem Kiefer's work. It's a chilly spring day and the Kiefer Building will not officially open for a few weeks. As we're walking over an open grated bridge with rushing water below, to our right workers are installing bases for a series of Franz West pieces, which will arrive soon. 25-30 feet tall, these have been seen once in Paris' Place du Vendrome. Pomme du Adam, or "Adam's Apple," placed next to Napoleon Bonaparte on his tall plinth, as many puns as possible. Huge, perky pink, phallic.
JT: Most of the buildings here are from 1862 to 1890. We tore down what was here, leaving the concrete trough in the middle. I liked the looks of this concrete tank, but we didn't have a clue what we were going to do with it. It was a handsome building, and the walls were 24″ thick and it would have been a mess to take it down, so we left it, and waited for a project.

CH: Which eventually shows up here.

JT: Yes, if you wait long enough, it will come.

CH: I think that has got to be your motto by now!

JT: (Laughing) That's true! I often say the only two assets that we have are space and time.

CH: I understand that this is a temporary loan for 15 years.

JT: Yes, that's right.

CH: The Halls decide if they want to continue and you decide too?

JT: Yes. At the end of the 15 years, we both have a conversation and decide if we want to go forward.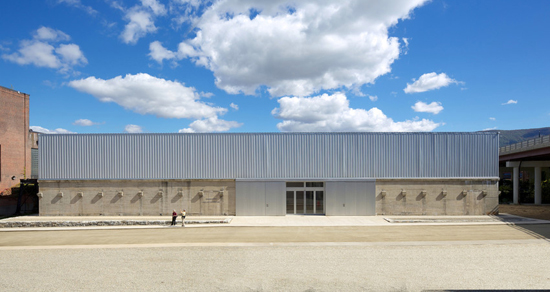 JT: I'm going to take you in the back door, but let me explain, normally these big steel doors slide back and they fold back flat and then there is a big glass door, a storefront treatment.

CH: Who designed the building?

JT: Kiefer and his designer Bill Katz. Bill frequently does exhibition design for many artists, including Jasper Johns and Kiefer.  They've worked together for 20 years and have a shorthand. Anslem uses this technique – what I call Butler buildings – pre-formed, framed construction at his various studios, cladding them with steel or glass like a greenhouse. It feels like a Kiefer studio building when we go in. Pardon this unceremonious entrance as we go in the back door. …

We are walking in behind the work.  A huge panel of lead hangs before us. Echoing footsteps as Joseph walks ahead. The building has a feel of being cavernous. It is divided in half lengthwise. We walk through the back and Thompson re-positions us to the front entry.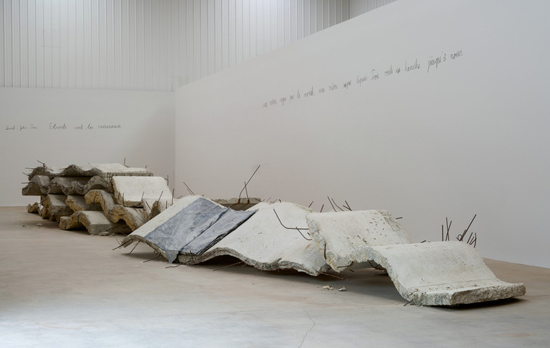 CH: Is this the piece that the Halls had on their lawn?

JT: It is.

CH: I can imagine the neighbors.

JT: A Georgian mansion directly across from the Pequot Yacht club.

CH: Can you translate the writing on the wall for us?

JT: Yes, it's a poem by Saint-John Perse, who was a 20th century French poet, a part time poet. He was a diplomat in the French government and his real name was Alexis Leger, but when he wrote poetry he wrote under the name Saint-John Perse. This poem is called Narrow are the Vessels, and this line which Kiefer came and added as we were doing the installation is "One same wave across the world, one same wave since Troy rolled its haunch towards us." The evocation, "since Troy," one thinks of war and the inevitability of war that began in Troy and keeps coming around with the inevitability of the waves as if it were fated.

On the other hand this piece has a lot of curves.

CH: It's very feminine.

JT: It's got a velvety surface…Wave like rhythm which goes up and then down, on one hand it looks like some awful aftermath of a horrible natural disaster or war; on the other hand it's surprisingly sexy. That theme, between desire and love and its inevitability and war and destruction and its inevitability — somewhere between those two poles, this entire exhibition reverberates. That's the theme; if there is a theme, that is, that joins these 3 works together. You see it here; you see it in the next work, which is an homage to the women heroes of the French revolution.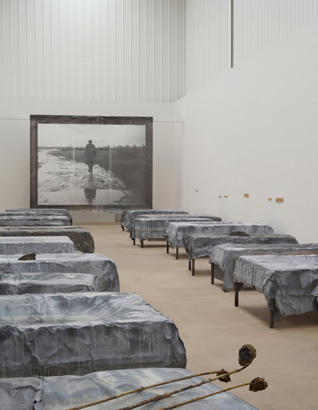 CH: Oh, it's chilling….

JT: Yes it is. Lead…beds.

CH: Is this actually water in it? Did the water stay in this all winter by itself?

JT: No, the man we just passed outside knew that you were coming and came and did a little work on it this morning. So you are actually seeing it…until a few moments ago it had plastic over it and no water in it.

Here you have the Die Frauen der Revolution, "The Women of the Revolution."  All three of these works also have their source in literature. In this case there was quite an amazing book, Jules Michelet, an 1854 book, "The Women of the Revolution," an extraordinary early work of feminist history which laid out the revolution through the eyes of the 30 women he focused on; some engaged in war and were combatants, some were socialites who gave refuge to philosophers and key writers. Kiefer came across this book soon after it was translated from the French to German, and he became intrigued both by the early view of history and with the writing itself. Typical of Anslem's work, he would make a body of work and install it one way, and then add more to it, growing it and changing it over time."

CH: Did the Hall's buy them all separately?

JT: No, Kiefer put them all together for a retrospective. I think it was the Guggenheim Bilbao 10 or 12 years ago.  Andy and Christine saw that ensemble and liked the power of them all together. I believe that was the first time the Halls were all shown together and they bought the entire suite of works.

CH: That photo at the end of the room, hanging, is a photo of Kiefer with his back to us? Harkens back to his early work of the sieg heil salute. Is this an old work?

JT: He made this example for this installation. He wanted to establish a visual end to the long room and to block the view of the door also. But, you're exactly right that it's one of the photographs he took from the seminal body of photos he took in the 70's after the Occupation where he went to sensitive locations all over Germany and he gave the sieg heil salute. This was the last photograph in the series, I believe. He donned a WWII uniform. It was a volatile series and he was closed mouthed about his intentions. He refused to be read in any one way or the other. In some ways it launched his career. I read an interview with him where he said the impetus for the series was a tape he heard of Goebels and Hitler talking. Kiefer said, of course, WWII was studied in school, but it would get only a few paragraphs in the history book, to de-gloss history. They might as well have been writing about a war in Egypt, there such that a very remote quality to the way the Germans wrote about WWII.

He said when he heard the voices of these two men and the way they used poetry and key words from German history, how they skillfully interwove tales of the forest and German literature into their cause, it was chilling and so human and so direct. He went out and began to try and add a human there-ness.

In some ways, that idea infuses his entire body of work from there on. There was a show, last fall at Williams College, I wish you would have seen it. The show had a few easel sized pieces, but most of the work was post cards, water colors. Most of the big Kiefer themes were already there in these small works of the early 1970s: the land as a kind of scribing history into the dirt. Where the landscape is over your head. It was all there in the vignettes of the forest. Love letters to his first wife, his palette was already set with those kind of beautiful ochres, raw siennas, burnt oranges.

CH: Did you love Kiefer before the Halls came to you?

JT: I was an admirer before. I saw the Mark Rosenthal exhibition at the Philadelphia Museum of Art in the late 80's. That was the first time I'd seen his paintings, those big grand paintings, the history paintings with the straw, felt like nothing I'd ever seen. So, yes I've been a fan, but that small show at William's College was lyrical, delicate. I really came to grips with his work.

Walking into a metal fabricated "shed" which houses 30 paintings...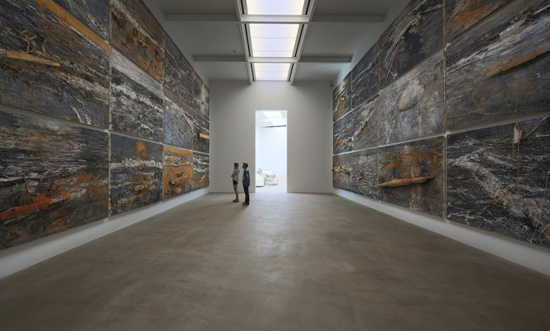 JT: This is a climate controlled shed, so when the rest of the building is allowed to go hot and cold with the seasons, this area has controlled humidity and temperature, to most protect the paintings. Even though according to Anselm, paintings die once they enter the museum sanctum.

This work is called Velimir Chlebnikov, Kiefer came during installation and added the written text  Time, Measure of the World — Fate of the People. The New Doctrine of War. Naval Battles Reoccur Every 317 Years or in Multiples Thereof, for Velimir Chlebnikov.

Chlebnikov was a Russian mystic, poet, futurist, early 20th century literary figure. He was also a numerologist and thought he detected a grand pattern in history of repetition every 317 years of major geopolitical changing sea battles. Once you knew that, you knew where not to be, and when the next conflagration was coming. Anslem read this text again, and as in the other 2 works, and made this work as a kind of homage. You asked about the other work, "Are they meant to be seen all together?" If you follow this wave here…from this painting, it carries on. It definitely feels to me like a composition of parts whether or not it was meant to be kept together. This was on view in London, and Andy and Christine saw it and inquired and bought the entire thing, building included lock stock and barrel.

Look at that, it's like a Turner. The roar of the thunderstorm.

CH: We are calling these paintings, but are they paint??

JT: Yes, and they have these big toys — tin and lead — which he produced and had around his studio, that are applied, and also these sunflower seed pods, spattered like stars, constellations. I think some historians have related those to some of the books he made where, in one series, he actually used his semen. For Anslem sunflower seeds represent spent possibilities, life not lived, wasted life, a future that won't unfold. I don't know whether that is an accurate reading of this or not. I'm glad we're near The Clark and Williams College because we'll have this steady stream of graduate students in art history coming through here. I think there is a lot of research that can be done here.

CH: So, the metal from the wall up is the new structure?

JT: Yes, we added the top to make it a sufficient height to hold this work. The top of the old concrete wall was about 14 feet, so we added another 16 feet on top of it to give us clearance to build this building within to house the paintings; so it's really a shed with a shed. The building is about as simple as it gets. It's simple industrial. This building held a million gallons of water, when it served the original occupant of our factory campus, The Arnold Print Works.

* * *

Looking out to where Franz West's work is being installed. Franz West is light hearted and humorous. Interested in people making work from his work. About the opposite of Kiefer. We all walked back inside for a sit down interview with Joseph Thompson. The video of that interview will be posted later.

What an amazing building and exhibit. Jerry said he felt like we were allowed into a sacred grove and I agree. We had the whole building to ourselves. Firstly, we were on tour with Joseph Thompson, who was explaining the building, decisions and design, its original function as a water sluce of a sort. The work of Kiefer was mystical, alchemical, magisterial. This combination of environment and art (as is most all of MASS MoCA) is a combination of old and new, rough and polished. It makes as many choices as there are to be had. Takes nothing for granted or as "standard," which creates a very surprising and correct environment and houses the art in a way I personally have never experienced.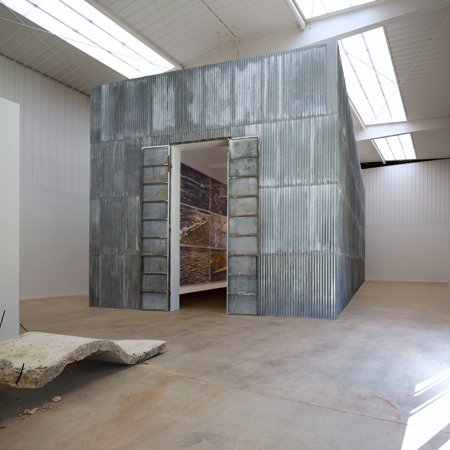 Deutschlands Geisteshelden (Germany's Spiritual Heroes), 1973, Oil and charcoal on burlap, mounted on canvas, 120-7/8 x 268-1/2″, The Broad Art Foundation, Santa Monica, © 2009 Anselm Kiefer, Photo Courtesy, The Broad Art Foundation, Photo by Douglas M. Parker Studio, Los Angeles.

Hall Art Foundation at MASS MoCA, Building designed by Bill Katz and Alex Haviland, Photo: Arthur Evans, Courtesy Hall Art Foundation, © Hall Art Foundation

Étroits sont les Vaisseaux (Narrow are the Vessels), 2002, concrete, steel, lead and earth, 60 x 960 x 110 inches (150 x 2500 x 280 cm), 

Photo: Arthur Evans, Courtesy Hall Art Foundation, © Anselm Kiefer

The Women of the Revolution (Les Femmes de la Révolution), 1992/2013 (detail), Lead beds: dimensions variable, Photograph on lead: 138 x 174 inches (350 x 442 cm), Photo: Arthur Evans, Courtesy Hall Art Foundation, © Anselm Kiefer

Velimir Chlebnikov, 2004 (detail), 30 paintings: oil, emulsion, acrylic, lead and mixed media on canvas, 18 paintings: 75 x 130 inches (190.5 x 330 cm) each, 12 paintings: 75 x 110 inches (190.5 x 280 cm) each, Hall Collection, Photo: Arthur Evans, Courtesy Hall Art Foundation, © Anselm Kiefer

Installation View, Hall Art Foundation at MASS MoCA, 2013, Photo: Arthur Evans, Courtesy Hall Art Foundation, © Anselm Kiefer
2 responses to "In Walks
Considering Kiefer"