red bird – dark river
Steve Dalachinksy
December 2016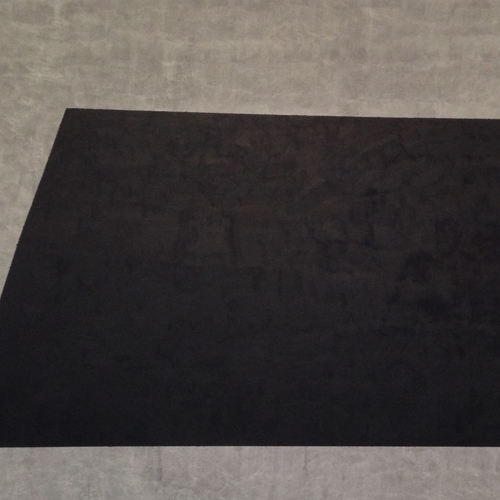 red bird  /  dark river  – agnes martin-john zorn @ the guggenheim 12/1/16

complex(ion) seemingly  well ordered / symmetry \ yet (un) predictable  –
as with music so with paint / re-ordering things  in pre-orderly patterns >
"hypnotizing" from one's perspective / the idea of "making a
mistake…" & working with that mistake…" to make "it right." /
introspection as music flows with paint >>>>> red bird is a dark river of
un-tilted/untitled praise
curling through mind-life re-arranging the sense of sense in a calmly
unsettling way   //////   > one leads to the other then stops as it
continues to merge with e(mergence) … as always deep progressive
emergencies \\\\ the storm within the quiet   new mix before the s.. s..
settling  >  before the storm is offered / fluid > stabilizes  > praise for
that dark river > the bass drums so deep deep as bottom of
rumbling water   dark & deep  /  always a stratagem in the line / (a)fore –
cast foretold that works both ways in pales   BLEU  — the brass work not
quite parallel but exceptional in its calm brightness / all flowing
currents /  going back in a forthward mind of  (a) way \ that is NO(H)
camouflage / the per(k)usssive science of silence implo(r)ding  / there are
those a lot smaller than eye can see / a perforation in the vision > which
allows one to hear thru  the mutes repeating the connection of flesh to its
origins / its very oneness / choreo-graphic analysis of the grid from
before there was a clear tho broken demarcation – that point  of rare
experience / as even the composer fl…flirts with tiny percussion
instruments i.e. bells gongs bass drum tapping / two sets of hands with
the same frame > these approaches as with the canvases deepen even
more silence's sensibilities with the birds become water & the throb &
pulse of mystery exposed yet remaining mischievously undisclosed…

in the cage un caged reading itself while remaining itself engaged >
where the duplication itself is improvised & well thought out … as the
written & the unwritten seamlessly merge > the graph of & for the senses
distributed & redefined / seemlessly > the boundaries clearly defined yet
clarified like ice floes gathering / dithering / curling (as in a painting by
monet) thru the blue / threw the blue / as history marks & remarks upon
itself – the ice breaks away from its self >  flows unscented perfume
down the chilly room here where the center spirals into itself …..

the little girl points upward tracing the architecture to its

apex — webbed circle where the eXes are held – dark river >  what more
than a rumble beneath the rumble > the expression of inexpressible
undercurrents > wayfaring wafers > her little hands busy with the string
of life > the beginnings of science in silence > what there was before
science & silence / i.e.   >   sound > earth always moving  the way a dark
river moves then stops > stopping >  resonance as in disappearance  ->

at times perhaps the brass too bright    but so too the depth &
muteness  of color bright >  but perhaps shimmering is more of what it
is / or >  not if it shimmers above inside & beneath line
|||||||||——–|||||||||  <>  or a dark triangle /         a defiance of clarity
even while edifying   deifying   &  defining it             pick up thy absence
& refill it    reside in its ever present non-ness

fall backward into the reflecting pool   rip(p)let your selves (a)go

RED BIRD

as a dove in midwinter she proclaims: " my paintings have neither object
nor space nor line nor anything – no forms. they are light, lightness,
about merging, about formlessness – breaking down form."

the islands embody & emanate tone   divided by pencil without a
compass to guide

double singularities              whiteness in white

" I want to draw a certain response… not a specific response but that
quality of response from people where they leave themselves behind,
often experienced in nature, an experience of simple joy."SCIENCE /
SURFACE / SUBTLTIES / TONE / PROPORTION / (un)DISCOVERY /
INNOCENCE / CONVENIENCE / (un)LUMINOSITY > "beauty"  /
PERFECTION >

"intangible touch…primal subject matter."

the early works reflect >  gorky/ miro / rothko / kelly / rheinhardt /

MONOCHROMATIC period

biomorphic as isness ofness & penciled in strategies

untitled    always the soft underbelly of color always muted as rain is
often muted                          this rain   prime(al) (e)MERGE(nce) as heather
is soft

even before becoming "herself"  she was HER self

the heavenly race (running)  toward buds/ fibers

the music fibrous yet ethereal

every day subject matter(ed)

modest means of making marks /

making your statement while marking your territory

  charting your course  / imaginary dialogues / imagery /

destruction of evidence / reconstruction and mapping of scenery as in
landscaping the invisible.

spare style: horizon burning tree garden dominoes playing in the wave
with egg words becoming white flo(w)u(e)r where dotted ions & eons
incline entwine & smash the  dash with solace & solitude's regainth &
again the islands recovering like islands recovering blue flowers for the
little sister valentine song (dis)connecting the DOTS. a game of
equivalents. a grey stone clouded by the seeming disappearance of its
very own presence. framework (72inches). ultimately subjective universal.
balconies walking spring field's aspirations. graph(ite) modulations.
friendship.  gold leaf. whiteness. falling blue (onto)
………………………….

"I want people when they look at my paintings to have the same
feelings they experience when they look at a landscape… beauty…
freedom… the water looks beautiful… even dust looks beautiful… it is
beauty that really calls."

summer / weeds / morse code / again & again filled with a language (hope)full
of yet devoid of meaning –(un)translatable >  the tree / the
white stone / little paint / little color / hand drawing lines / the rose for
instance / however many times the line to be reworked / reconfigured /
reconnected >
you escaped from the corrupting sense of pride caused by recognition
and the adulation of your work while most run toward those very things
> >>>>>>>

SPACED  =  life unfolds free of any influence though retaining always the
memory of another > "they (the paintings) don't repeat. and i don't think
life does either."

nor music

the grates the homage to LIFE  – the

SEA
& some like music sheets waiting to be filled yet FULL. black. calm. silent.
loving love. overflowing with gratitude. blessings. the great with the
greats. the entrance to the entrance. deforming the
lllllllliiiiiiiinnnnnnnneeeeeeee. reforming. reducing. presenting. informing
the lllllllllllliiiiiiiiiinnnnnnnnneeeeeeee.
as we settle in but never quite settle down